Submitted by
Michael Neininger
on
While on sabbatical this past year, I was able to get some rest, spend more time in the sea, and also pursue my existing interests in literature and the environment into new fields, in particular Jewish studies and memory studies. Having invitations to publish in essay collections—in other words, having deadlines—was a major impetus for this. You can read more about these essays, and the book project that grew out of them, on my faculty page. A truncated version of it can be found on the blog of the Diversity, Decolonization, and the German Curriculum collective and my post on "How Might Memory Studies Matter Today."
One of the biggest professional highlights of the past year was co-organizing (with Kye Terrasi of German Studies, Maya Smith of French and Italian Studies, and Olivia Gunn of Scandinavian Studies) a symposium on "Social Justice Pedagogies Across the Curriculum." The contributions—by faculty, staff, and students—were phenomenal, as you can imagine from the program.
During my sabbatical I was also able to take some time to translate some German-language letter, held in the archive of Seattle's Holocaust Center for Humanity, for a relative of the survivor who wrote those letters. Since then, I have worked with the center to create a community-based learning opportunity for German Studies majors, who can get course credit for translating documents from the Center's archives.
Another highlight of this year was being invited to contribute to a fairy tale project with a wonderful artist collective known as Futurefarmers. Getting paid to write about fairy tales is itself a kind of fairy tale, so I had to keep pinching myself to make sure that it wasn't a dream.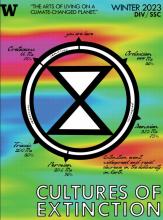 Featured course in Winter 2023:  Cultures of Extinction