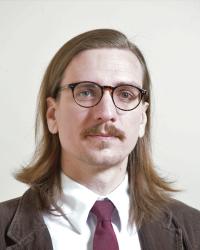 Contact Information
Office Hours
Tuesday 10:30-11:30 or by appointment
Biography
MA, German Studies, California State University Long Beach, 2017
BA, German Studies, California State University Long Beach, 2015
Jeffrey Jarzomb is a PhD candidate at the University of Washington in the Department of German Studies.

Jeff's research centers on negotiations of group identities and their development in the 18th and 19th centuries. His dissertation, Imposing Identities: "das Volk" in Philosophy, Literature, and Drama around 1800, focuses on the paradox of prescriptive descriptions inherent to portrayals of "Volk" in selected works from Herder, Christine Westphalen, Schiller, Büchner, Therese Huber, Kleist, and Marx. This project contends that there is a demonstrable tension between subjective constructions of "Volk" and the historical realities of such categories and concludes that this is indicative of how group identities remain prescriptive, regardless of their ability to initiate action.

Jeff is currently the Lead TA for the German language program, a Hanauer Fellow, and a section instructor for Humanities 101. He has taught numerous courses in the German language program and is the Graduate Student Advisor to German Club.