Associate Professor of German Studies
Graduate Programs Coordinator
Acting Chair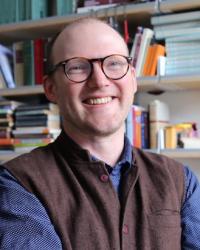 Contact Information
Office Hours
Spring 2023: Research Leave
Biography
Ph.D., German, Yale University, 2011
M.A., German, The Johns Hopkins University, 2006
M.A., Eastern Classics, St. John's College, Santa Fe, 2003
Post-Baccalaureate Certificate in Classics, University of Pennsylvania, 2002
B.A., Philosophy/Liberal Arts, St. John's College, Annapolis, 1998
My teaching and research are committed to understanding how people come to know one another and themselves. I am especially interested in how the reception of Greek antiquity and Shakespeare contribute to the formation of our ideas and identities today.   In my courses, I work alongside students to explore urgent problems--such as sympathy, heroism, and revolution--through the lens of literature, performance, and philosophy. 
My first book, Odysseys of Recognition: Performing Intersubjectivity in Homer, Aristotle, Shakespeare, Goethe, and Kleist (Bucknell UP 2019) has been generously reviewed in Modern Language Quarterly, German Quarterly, German Studies Review, Goethe Yearbook, and Lessing Yearbook. My second book project is a study of the rhetoric of sympathy in ethics and aesthetics through the reception of the Philoctetes myth from the Trojan to the Iraq Wars. I have also published articles on Sophocles, Aristotle, Shakespeare, Shaftesbury, Mendelssohn, Lessing, Adam Smith, Goethe, Lenz, Kleist, Tom Stoppard, Heiner Müller, Ursula Krechel, and the Sanskrit dramatist Kālidāsa. Together with Martin Wagner, I translated selected plays, stories, essays, and poems of the daring Sturm und Drang writer,  J.M.R. Lenz (2019). I am also interested in connections between evolutions in scientific understanding and artistic creation, and my translation of Rüdiger Campe's The Game of Probability: Literature and Calculation between Pascal and Kleist, was published by Stanford UP in 2013. All of my sundry interests unfold from some aspect of performance studies: it is instructively revealing to view even the scientific experiment as a staged performative space.
Before coming coming to UW, I taught at Centre College in Danville, Kentucky, the Johns Hopkins University in Baltimore, Maryland, and the Priamursky State University Shalom Aleichem in Birobidzhan, Russia.